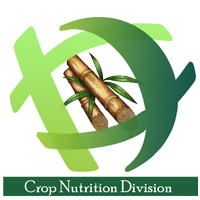 GOAL
Sustainable increase of productivity and profitability of the sugar industry through improved soil fertility.
Our services run deep and are backed by over thirty years of experience.
Division of Crop Nutrition is one of the research and service providing divisions in the Sugarcane Research Institute. The division is mainly conducting research on soil and plant nutrition with the goal of "sustainable increase of productivity and profitability of the sugar industry through improved soil fertility management and crop nutrition practices". Apart from that, laboratory analysis of soil, plant, cane and sugar is undertaken to support other divisional research activities and industry needs. Further, Crop Nutrition division is facilitating to disseminate knowledge and technologies among farmers, industry people and students (Universities, Training institutes and Schools).
Priority Areas in Research and Services
Revision of the fertiliser recommendations for Sevanagala, Pelwatte, Siyambalanduwa, Hingurana, Badulla, Kantale and Killinochchi sugarcane plantations.
Identification and exploration of nutrient status (including macro and micronutrients) of sugarcane-growing soils.
Evaluation of substitute fertilisers for sugarcane including organo-mineral and compound fertilisers.
Determination of the effect of the direct soil application of vinasse and filter-mud on sugarcane crop and its soil properties with effective disposal of sugarcane industry waste in an efficient manner to increase the productivity of sugarcane lands.
Identification of the succession pattern of filter-mud and vinasse composting process.
Use of alternative sources of nutrients for minimising dependence on synthetic fertiliser and finding out the efficient levels of vinasse, filter-mud and compost to improve the soil quality.
Studying solubility of High-grade Eppawala Rock Phosphate (HERP) and Eppawala Rock Phosphate (ERP) with Vinasse as per the replacement of TSP with locally available Rock phosphates in a sustainable manner.
Evaluation of the effect of vinasse on soil properties and plant growth in field conditions and estimating the leaching losses of major plant nutrients when applying vinasse in sugarcane- growing soils.
Analysing and monitoring of sugar in the market biannually for their quality standard levels (considering parameters – Pol percentage, ICUMSA colour and moisture percentage).
Provide analytical services on soil, leaf, cane juice and fertilisers
Important findings of the Crop Nutrition Division up to the year 2020
Completion of the preliminary development of organo-mineral fertilizer pellets using compost made out of the sugarcane industry by-products and synthetic mineral fertilizers.
Identified that the RBE soils at Sevanagala under rain-fed and irrigated conditions have a pH around 6.5 which is favourable for sugarcane cultivation. Further identified the current status of soil macro- and micro nutrients of Sevanagala sugarcane-growing soils.
It has been identified that due to high pH, EC and Na conditions the LHG soils under rain-fed conditions are unfavourable for sugarcane cultivation at Sevanagala. Necessary measures are required for lands becoming unfavourable for sugarcane cultivation in the future.
Studies revealed that the sugarcane-growing soils at Sevanagala except LHG soils under rain-fed conditions showed properties comparable to undisturbed soil in the area with minor deviations highlighting its buffered nature despite long-term cultivation of sugarcane.
Identification of average Cation Exchange Capacity of Low Humic Gley soil was 7.89 cmol(+)/kg of soil and Reddish Brown Earth soil was significantly higher than that of the former (9.53 cmol(+)/kg) in Sevanagala sugarcane-growing area.
Identification of organic carbon percentage of sugarcane-growing soils at Sevanagala ranged from 0.8% to 1.2%.
Identification of organic carbon percentage of sugarcane-growing soils at Pelwatta Nucleus estate sector ranged from 0.2% to 1.0% and it minimise plant nutrient availability in the soil.
Provided an interim fertiliser recommendation for sugarcane nurseries at Sevanagala and Pelwatte.
Identified the positive and negative influences of vinasse and filter-mud on Sugarcane crop and its soil properties and 40 m3/ha of vinasse with 10 tonnes/ha of filter-mud treatment combination well performed during the plant crop.
Findings of the laboratory level incubation study indicated that 40 m3/ha (low rate of non-concentrated vinasse) improved soil quality that suitable for sugarcane cultivation.
Finding that application of High-grade Eppawala Rock Phosphate (HERP) and Eppawala Rock Phosphate (ERP) with vinasse (40 m3/ha) in field-level increases the soil available Phosphorous content in ratoon crop comparative to the plant crop.
Revised the fertilizer recommendation for selected locations of Gal-Oya Plantations (Pvt) Ltd, Hingurana based on soil P and K contents
Provided fertiliser recommendations for all sugarcane-growing soils in Sri Lanka
Ongoing Research Activities and Services
CN/01/19: Development of organo-mineral fertilizer for sugarcane by using low cost sugarcane industry by products
CN/02/17: Revision of fertiliser recommendations for Sevanagala, Pelwatte and Siyambalanduwa
CN/01/20: Detail evaluation of N and K response of the sugarcane variety SL 96 128 for yield and quality parameters
CN/03/20: Evaluation of the suitability of compound fertilisers for sugarcane cultivation in Sri Lanka
Recommendation
Fertiliser Recommendation for Sugarcane-growing Soils at Uda Walawe, Sevanagala, Pelwatte, Hingurana, Kantale, Killinochchi and Badulla (2013/2014)
Fertiliser recommendation for rain-fed and irrigated lands under all divisions at Sevangala, Pelwatte, Hingurana, Kantale, Killinochchi and Badulla are enclosed herewith for implementation.

The readings are based on previous and recent fertilizer response and nutrient removal studies. Fertiliser levels have been rounded to the nearest 1/2 or 1/4 of a 50 kg fertiliser bag to facilitate easy handling and distribution.

The Crop Nutrition Division of the SRI will monitor the soil pH in each division (by random sampling) and taking sugarcane leaf samples (4 months old) from fields where the SRI recommendation is practised for nutrient analysis for continuous monitoring of the fertiliser recommendation provided by SRI. Based on the results of these analyses the recommendation will be revised if necessary.    

Use of Organic Fertilizer for Sugarcane Cultivation
The Sugarcane Research Institute has recommended incorporating organic fertilizers for sugarcane-growing soils to improve the organic matter content and thereby the moisture retention for readily availability of nutrients. One ton of filter-mud application can deliver around 100kg of organic matter and 3 kg of nitrogen. In addition 1000 litres of vinasse application can provide around 20-40 kg of organic matter and 0.3-0.6kg of nitrogen into the soil. As per the research conducted on this matter, SRI has released recommendations for the application of filter-mud and vinasse for sugarcane-growing fields and given below,
20 – 30 tons of filter-mud application at 2-3 weeks before planting
Application of vinasse to sugarcane plantations at the rate of 40m3/ha once in every 3 years, one week before planting and soon after ratooning
Research findings have proved that the application of 40 m3of vinasse along with 20-30 tonnes of filter-mud per hectare improves the soil organic matter content and the availability of N, P and K in sugarcane-growing soil, and thereby the performance of plant and ratoon crops of sugarcane.